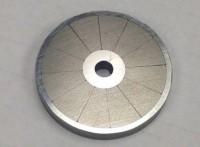 Each post in our Tech Talk blog is designed to help you better understand the complex and sometimes confusing world of magnets.  In recent posts, we discussed material grade selection, machinability of magnetic alloy, and understanding how materials such as N52 neodymium are classified.  This post explains how magnetic assemblies work and why they are common solutions to magnet applications.  We'll also explore the manufacture and fabrication of magnet assemblies. 
Increased Mechanical Strength
One often overlooked consideration is the inherently brittle composition of magnet alloys.  Magnets exposed to repetitive mechanical stresses can suffer volume loss.  If a portion of the magnet chips away from the main body, the resulting volume loss can lead to a deterioration of the magnetic field.  To combat this state, we can combine or integrate magnets with non-magnetic components (e.g., ferrous metals, non-ferrous metals, and plastics) that create a protective barrier or housing that prevents volume loss.  Some common examples of magnetic assemblies include rail magnets, channel magnets, and pot magnets.
Increased Magnetic Strength
In addition to increased mechanical strength, the use of a magnet assembly can increase magnetic strength.  Magnetic assemblies typically have higher magnet force when compared to a raw magnet because the flux conducting elements found in the assembly are an integral part of the magnetic circuit. These elements, by the use of magnetic induction, enhance and focus the assembly's field on the region of interest. This technique works best when using the magnetic assembly in direct contact with a work-piece where even the smallest gaps can dramatically impact the magnetic field. These gaps can be an actual air-gap or any coating or debris which stands the assembly off of the work-piece .
Mounting and Special Design Features
Magnetic assemblies can be integrated by a variety of methods, and most are mechanical. The most common are press-fitting (interference) and by the use of a mechanical fastener. The press-fit assemblies will typically utilize a brass sleeve which is centerless-ground for insertion into a bore. Mechanical fastener mounting will make use of an incorporated tapped or through hole in the assembly.  We can also tap holes in the housing material whereas this is not possible when using a plain magnet.
Manufacturing Methods
Magnet assembly manufacturing methods are as diverse as the materials and magnetic alloys used in them.  Magnets can be pressed into soft metals such as brass or secured to non-magnetic components with industrial adhesives.
Is a Magnet Assembly Right For Your Application?
Customers often ask whether a magnetic assembly is a cost effective solution for their application.  If the resulting combination of magnetic and non-magnetic components creates an increased magnetic performance and part longevity, a magnetic assembly may be a cost effective option.  Our team of engineers and design professionals can assist you in determining if a magnetic assembly is needed and what type is best for your application. To learn more about magnet assemblies, or to discuss your project with an magnet engineer, contact Dura Magnetics for further assistance.