Containing Magnetic Fields When Shipping Magnets via Air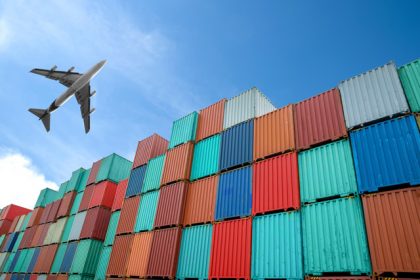 Due to the potentially disruptive nature of magnetic fields, shipping magnets by air requires specialized packaging and procedures. Strong rare-earth magnets, such as neodymium magnets, can cause problems in transit affecting other packages or even cause disruptions or damage to avionics or material handling equipment if insufficiently shielded or improperly packaged for shipment.
For this reason, the aviation industry regulates the shipment of magnetic materials and actually identifies those materials as "dangerous goods" to ship. This does not mean they are banned – however, the materials while in air transit must be properly labelled and packaged for safe transport. When shipping outside the United States, the International Air Transport Association's (IATA) Dangerous Goods Regulations (DGR) must be followed.
Determine Compliance by Measuring Field Strength
Essentially, magnetic strength as measured from a prescribed distance is the test to determine compliance with the regulations. To travel by air, flux as measured 15 feet from the package, must be below 0.00525 gauss. If the total flux field emission is over 0.00525 gauss measured at 15 feet from the package (rotated 360° in both planes), the package cannot be accepted for air shipment.  Note: if flux is under 0.002 gauss when measured at 7 feet, the package is not considered to contain magnetic material, therefore is not classified as a "Dangerous Good."
Proper test methodology as well as documented training for personnel packaging for shipment are essential parts of compliance with these regulations.
As a custom fabricator of magnetic assembly prototypes and production quantities, we work daily to measure magnetic strength using sophisticated flux and gauss meters and highly repeatable test methods for QC.  Dura personnel are therefore proficient at both measuring the magnetic force outside the shipping containers and correctly packaging domestic and international shipments to comply with carrier regulations.
Magnetic Field Contained by "Space" & High Permeability Box Around Magnets
Magnetic permeability measures the ability for a material (say iron, steel, or other ferromagnetic material) to absorb magnetic flux. A higher permeability means more magnetic absorption. Therefore, by using high absorption materials to shield the magnetic flux we can contain the magnetic force that reaches outside the shipping container. Steel is certainly the simplest, lowest cost material used.
The second principle at play in disrupting the flow of magnetic force is providing sufficient space around the magnets. Through the intentional use of divided cells within packaging materials, we can essentially keep the magnetic force away from the exterior of the package, the point at which field strength measurements would be made.
Proper Labeling & Documentation Must Be Affixed to Package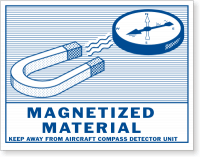 Provided the magnetic field emission is less than 0.00525 gauss, the package qualifies for shipment via air on an international flight. The shipper MUST, however, complete the Dangerous Goods Declaration Form, and label the package appropriately. Any such package must have the "Handling Label for Class 9 – Magnetized Material" label affixed.
Please note, the information on this page is only meant as a primer on the subject, and does not fully state all of the FAA and IATA regulations. Always consult with a qualified, trained organization before shipping magnets by air. As a magnet buyer, it is fair to draw on your vendor's expertise to lead you through the air shipment process.
Dura Magnetics has the trained, qualified personnel and measurement equipment on-hand to ship magnetic materials via air carrier. Please note that due to the additional packaging requirements for magnet air shipments, additional packing/handling charges may apply. These charges are only applied as needed to cover the cost of extra shielding and packaging material, regulation testing, and necessary paperwork.
Additional Resources: