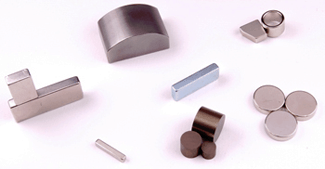 Explore available stock Neodymium rings, cylinders, and blocks…
Available Grades of Neo:
Many grades of Neodymium exist to support a variety of industrial and commercial applications.  The range of Neo grades is typically 33 to 52 MGOe.  These ranges allow for balancing cost, magnetic performance, and operational temperature resistance.
Learn more or review the available Neodymium Magnet grades…
---
Corrosion Resistance:
Neodymium magnets have poor resistance to corrosion and they can also corrode from the inside out if proper pre-treatment processes are not followed.  Often, a multi-layer Nickel-Copper-Nickel plating is applied, but this may not be sufficient for all applications.
Learn more about Neo Corrosion and corrosion inhibiting options…
---
Temperature Effects:
Neodymium  magnets are very susceptible to elevated operating temperatures and the application requirements should be considered before selecting a particular grade of Neo.
Learn more about Neodymium Magnet operating temperatures above ambient temperatures…
---
Magnetization Options:
Although most commercial magnets are anisotropic, which means they have a preferred direction of magnetization, various pole configurations can be achieved without conflicting with a Neodymium Magnet's orientation.
Learn more about magnetization options for Neodymium Magnets…
---
Compliance and Intellectual Property Considerations:
The Neodymium Iron Boron magnets that Dura Magnetics provides are compliant with Intellectual Property Rights, Environmental Restrictions, and Conflict Mineral usage.
License Neo and compliant with the Neodymium Iron Boron (IP) holders.
RoHS, RoHS II, RoHS III and REACH
Dodd Frank Wall Street Reform Act (Section 1502)
Learn more about compliance and intellectual property considerations for Neodymium Magnets…
---
Handling and Storage of Neodymium Magnets:
Neodymium Magnets are very strong and brittle, requiring appropriate handling and packing to ensure safety and prevent damage.
Learn more about safe handling and storage of Neodymium Magnets…
---
Neodymium Magnet Manufacturing Methods:
Neodymium Magnets are typically manufactured by a powdered metallurgical process utilizing rigid steel or rubber molds.
Learn more about Neodymium Magnet Manufacturing methods…
---