History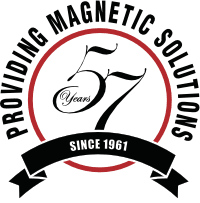 Dura Magnetics was incorporated in 1961 and was established as a production Alnico magnet alloy manufacturer. For the next 25 years Dura was one of the leading Alnico manufacturers and shipped an average of 1 to 2 tons of finished Alnico magnetic material per month. The development of proprietary cutting technology allowed Dura to remain at the forefront of Alnico magnet manufacturers.
Dura's Alnico magnetic material market dominance waned as the North American Mills established their own in-house magnet manufacturing facilities and inexpensive Brazilian and Russian magnets flooded the marketplace. Without a cost advantage in the Alnico magnets production arena, Dura Magnetics established a comprehensive group of metal working products and assemblies marketed under the DURAMAG trade name.
In the mid 1990's offshore competition from China's magnet manufacturers increased in the magnet assembly marketplace and our traditional catalog and industrial supply customer's sought out products produced in lower labor areas.
At this time, Dura Magnetics' executive management decided to modify the existing business model and target applications where a high degree of technology and capability are required. For the next several years, capital investments was made to the facility, training, equipment, and software. Dura concentrated on its core competency of manufacturing changing of magnet alloys and stepped out of the commodity marketplace.
These improvements were the cornerstone of what Dura Magnetics is today, a comprehensive magnetic solution provider to industry and academia. Dura is now a premier Engineer to Order manufacturer of magnets and magnetic assemblies. With our state of the art design and production facilities we are able to design and fabricate a wide array of magnet materials, including Neodymium, Samarium Cobalt, Alnico, and Ceramic. We are constantly striving to add complimentary functions in order to consistently deliver value to the marketplace.
Capabilities
Design and Engineering
Dura offers a full service development capability employing a variety of 2D and 3D magnetic simulation packages. A variety of standard and exotic magnetic alloys are stocked for prototype fabrication or production products. Dura designs and manufactures magnetic solutions for:
Material Handling
Metal Separation
Aerospace and Defense programs
Sensor triggering
Thin Film Deposition and Magnetic Annealing
Metal working
Electromagnetic Applications
Electro Mechanical devices
Various Holding applications
Equipment
CNC Turning and Milling machines
Sinker and Wire EDM
High Energy Magnetizers
Blanchard and Surface Grinding
ID and OD, and centerless Grinding
Production and precision cut-off equipment
Sheet metal fabrication equipment
Variety of metal joining equipment
Quality Level
Mil-Spec 45208A
Coordinate Measurement Machines and Video Inspection System
Magnetic testing equipment for measurements of Field Density and Field Strength
Hysteresisgraph for magnetic characteristic measurement
AS9001D Certified